Imagine you can meet a hot young lady who dreams of having an affair with you. You don't need to charm her and send flowers or gifts, she's confident, and she knows she wants – your money. Check out this WhatsYourPrice review to find out more details about the popular hookup platform for this purpose that makes the dreams of men come true and significantly simplifies their lives.
In A Nutshell
If you wonder if there's a legal place to pay for ladies for their companionship, we will point out the popular and modern WhatsYourPrice platform. It has turned the world of sugar dating upside down, and fastly took its position on the market. This is a convenient and modern website for dating. Girls on the site have beauty and sex appeal, you have some finances to contribute, so why not getting pleasant mutual benefit from the situation.
Pros And Cons
Pros
A professionally performed design looks modern and stylish
Women are not paid to register on WhatsYourPrice
You only pay bids offline
You can attract a lady's attention by sending free winks
Cons
No mobile app makes it inconvenient to use the website on the go
The website is affordable to those with high income
Everything on WhatsYourprice wants your money
WhatsYourPrice.com At A Glance
Best for: males and females who want to pay or get paid for the date
Recommended age: 18-55
Favorite features: free registration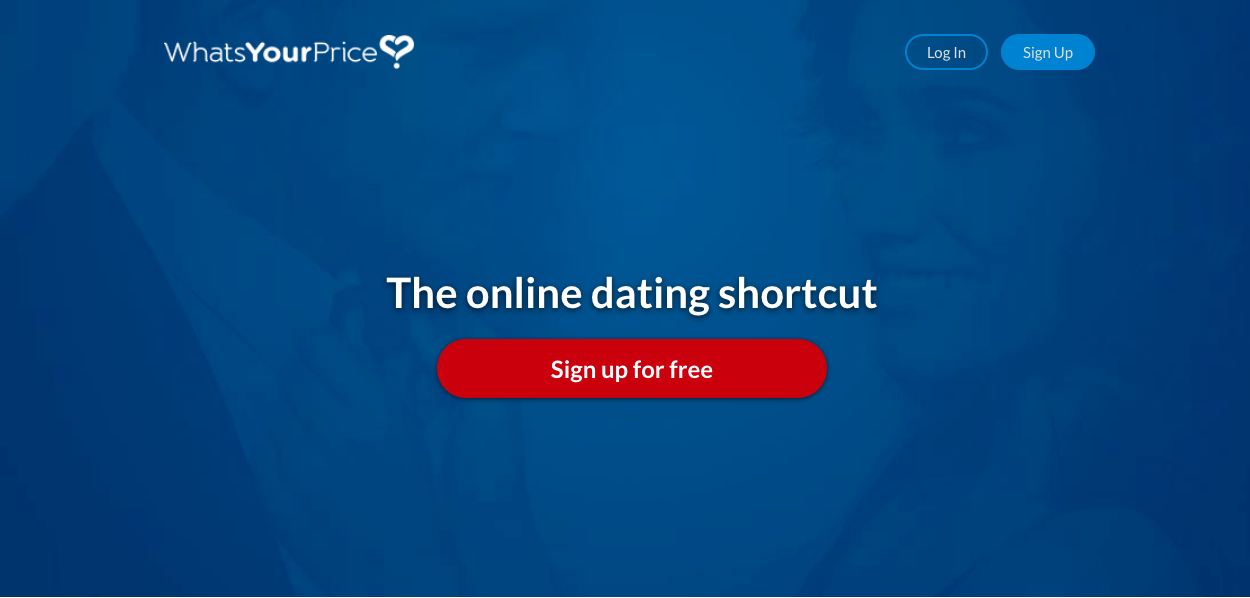 What Is WhatsYourPrice?
WhatsYourprice is a popular bid-based dating site by the creator of SeekingArrangement.com Brandon Wade. Launched in 2010, the site looks updated and modern and is widely used in the range of North American and European countries. What differs WhatsYourPrice dating website from the other popular sugar dating websites is that it operates in the form of auction.
Users are divided into 2 categories the generous (mostly men) and attractive (females). The generous members make an offer on a form of a money bid to the girl they like, and in case she accepts the offer, a man pays for a date and takes responsibility for all date expenses.
The relationships built among the two parties are those based on mutual benefit: women get money, while men get a beautiful lady to spend an evening and a night. Even though WhatsYourPrice.com is not an escort service, both parties understand how the date will end.
How Does WhatsYourPrice Work?
Dating with WhatsYourPrice is not complicated. You sign up, then fill out a profile, top up your account, and seek a beautiful woman you'd like to get to know. The truth about WhatsYourPrice is that the website caters to people who are interested in meeting like-minded singles and having some fun with them.
The bids to get a lady starts from $5. However, usually, you would need a little more to take her out. On WhatsYourPrice dating website, everything is straightforward, you don't beat around the bush, and don't conduct a long correspondence with a woman trying to get her interested in your personality, all you do is set a price and receive a chance to get her laid.
Sign Up On WhatsYourPrice
WhatsYourPrice log in is a quick and free process for everyone. To quickly join the site and start looking for a hookup, you should specify your gender, ethnicity, complexion, what type of relationships you're looking for (regular sex encounters or one-night sex or even a typical date), your income and relationship status. Is WhatsYourPrice good for married people? The platform works great for married people. Even those looking for an extramarital affair can join the site.
After completion of your registration process, you would get a nice welcome letter to your email address. After the verification of your email, you can freely use all the features of this popular platform. Remember that the verification procedure costs $50, but it adds extra points to your popularity on WhatsYourPrice, so it definitely worth it.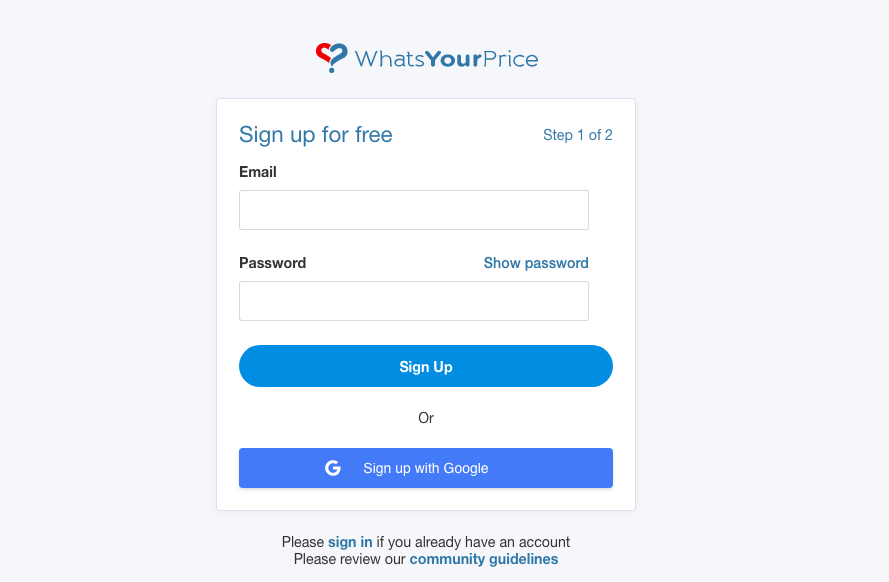 Search & Profile Quality
As you already know, there are the two categories in which all the site's members are classified. Females get paid for companionship really well. A great part of women registered is college students who need some extra money. After you have registered on the site as a "generous" member, you may want to know how to find a beautiful and loyal woman that meets your expectations and share your values.
Instead of wasting time scrolling through profiles, you can take advantage of the site's search mechanism. You can sort out ladies by the same information that you submit while registering (i.e., age, body type, location, marital status) and also children, drinking or smoking habits, education, etc. Just press a button and choose as many categories, and you want.
Even the toughest filter will help you to find a woman for pleasant time spending. Ladies often add great and fund private photos to their profile, and in case you want to view them, you should also offer a bid.
Safety On WhatsYourPrice
The Whats Your Price dating site is a safe environment. All the payments you make on the site are encrypted, and the site verifies all the profiles, so the platform does its best to ensure the safe dating environment for its users. All the photos must be approved before they can be posted. Since all bid payments are made in person, you don't risk getting scammed on the site.
Help & Support
To ensure that all the members will not be left alone on the site, WhatsYourPrice has hired a responsive team to assist you in any question. You can contact them via email address [email protected], or through their Facebook and Twitter accounts. As you see, the communication process is very fast and pleasant. Normally, they respond within one day or even faster.
Prices & Plans On WhatsYourPrice
The WhatsYourPrice site revolves around your payment capacity. The website is one of the most popular in the sugar dating categories. Hence, it's easy to understand why all its free features are limited with free registration.
As usual, dating websites allow you to enjoy the interaction with gorgeous girlfriends, by paying a membership fee or purchasing credits. WhatsYourPrice offers its members to take part in some kind of auction, offering a particular sum for seeing a lady in person. Some may say, WhatsYourPrice is nothing more than a digitalized prostitution, but we're sure that this is just a way to facilitate and accelerate the process and not waste the time of both parties.
The site kindly offers a minimum bid of only $5. Numerous WhatsYourPrice.com reviews claim that the most expensive date arranged cost a man around $400. California is a state of the most generous men. The site says they get nothing from the bids. Let us explain how they earn the money to function for 10 years successfully.
The thing is, to communicate on WhatsYourPrice, you should purchase credits, which are the internal currency of this popular platform. For instance, 100 credits can be bought at $50, and 1,000 credits will cost $250. Payments can be made using only a credit card or PayPal, so you can choose the payment method that works for you.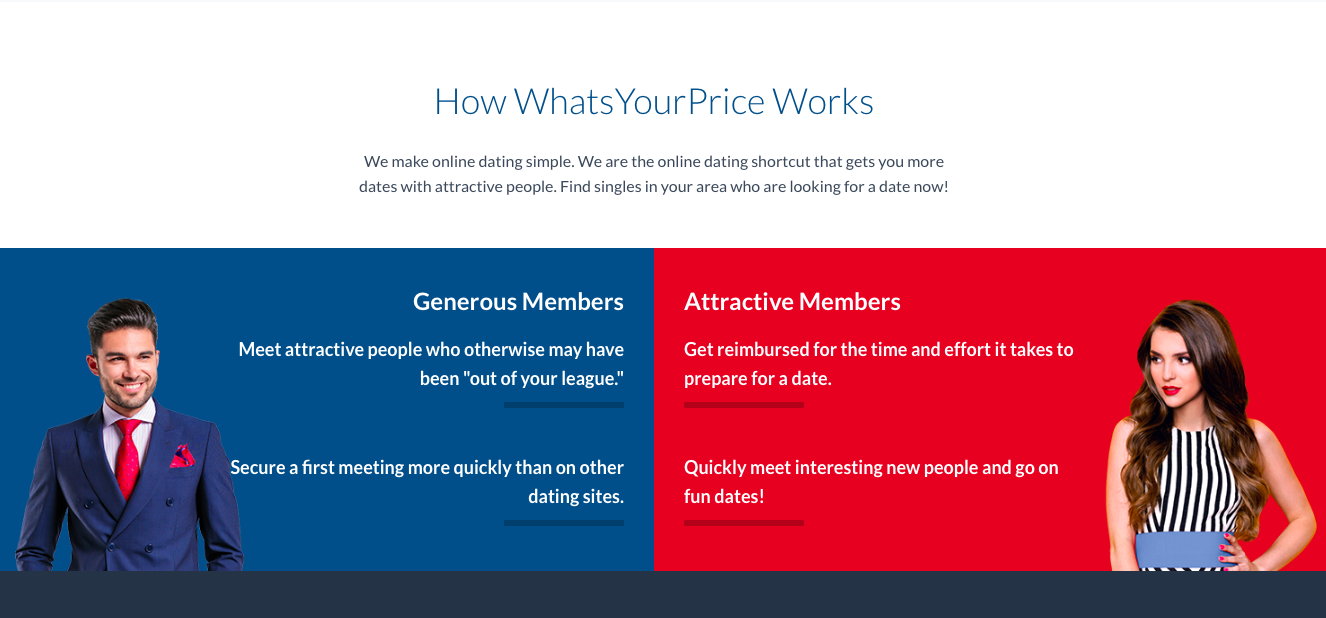 Conclusion
To summarize, WhatsYourprice is one of the most credible websites offering sex encounters. The platform has nothing to do with prostitution; the "generous" users pay not for sex, but for being accompanied by a hot woman.
The registration process is easy and systemized and can be completed within 5 minutes. Users' are asked to make their profiles informative, so you can find out about a lady a lot before taking her out, and also ladies just not blindly accept the bid of the highest cost, but also can check men's profile and choose which of them impressed her the most.
The credit system on Whats Your Price allows you to bid on the most beautiful girl on the site. The combination of the professional customer support team, a modern design, reliable security measures, and of course, a vast database of gorgeous females make WhatsYourPrice an excellent choice!